MenuLogistics Announces a Strategic Alliance with Healthcare Dining

This alliance will focus the education, promotion and implementation of the industry's best clinical nutrition management tool, the ML Clinical Dietetic Workbench.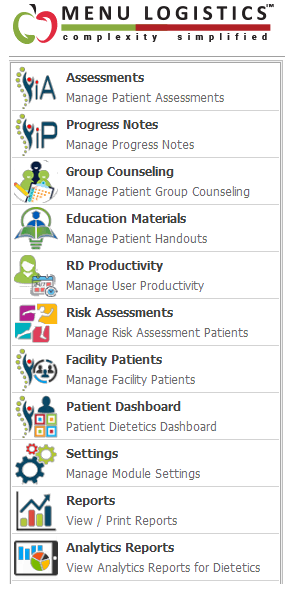 Core features include:
A Single Dashboard to Manage and Automate all Clinical Nutrition Tasks Required for RD Completion

Works with any HIS System Utilizing Existing Communications with F&NS

Integrates with all Food Management Systems (Self-Op or Contractor Owned)

The Clinical Processes are Standardized Utilizing AND & ASPEN protocols that include: NFPA, NCP, ADIME charting, NCM Education Materials and can be customized to meet individual hospital policies
The Only Stand-Alone, Clinical Dietetics Management Software
Specifically Designed for Registered Dietitians
in the acute care space
The primary challenge for healthcare administrators is to balance an initiative's outcomes to cost/benefit. The deployment of the ML Clinical Dietetics Program in healthcare operations will lower operational costs by reducing Length of Stay (LOS) & readmissions.  The program also qualifies malnutrition codes, increasing reimbursements and clinical productivity.
Identification of "At-Risk" patients is automated in real-time, expediting the initiation of assessment and intervention to improve patient outcomes. The program streamlines the workflow for Dietitians by centralizing all data components from multiple clinical systems onto one dashboard. Directed pathways are then provided to ensure that the most comprehensive Nutritional Assessment is made available to Medical Staff automatically through a "bi-directional" interface to the patient's Electronic Medical Record (EMR).
The Clinical Assessment Process can be conducted at the patient's bedside improving the nutrition experience. A full library of care standards, references and guidelines including algorithms are available to calculate and compare all estimated energy need protocols backed by The AND Standards of Practice.
 
With the high degree of trust and reputation for excellence that Healthcare Dining has earned within the healthcare industry over the past 20 years, the collaboration with MenuLogistics will vastly improve nutritional care and outcomes in any healthcare setting.
"This is a fantastic program that not only provides a realistic ROI but can also, truly, make a positive impact on patient care. This is the best thing to come along in the market since Room Service."
Bill Klein, Vice President of Operations, Healthcare Dining
"It's a dietitian's dream.  The system provides every single tool and resource RDs need to be successful, focusing on the importance of dietitian documentation and intervention in the acute care market. Never has it been easier to get the results we actually strive for."
Catherine Lynn, RD, MenuLogistics
About
Healthcare Dining
Healthcare Dining provides specialized consultation and operational improvement in the healthcare industry, identifying gaps and opportunities in operations and services leading to the development of comprehensive planning which aligns goals with processes to facilitate solutions.  
For more information, visit:
www.hcdining.com
or call (520) 331-2041.